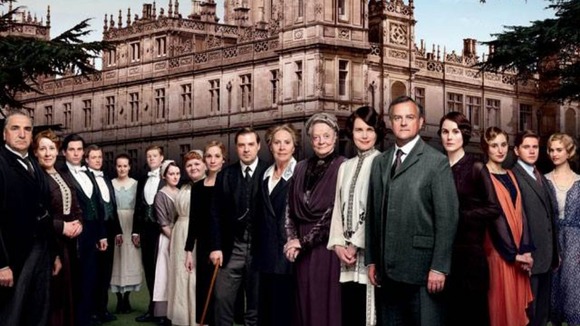 www.itv.com
I know it's September now, but if I'm honest I still haven't fully forgiven Dan Stevens for ruining Christmas.
Because we know now that it was he, and not Julian Fellowes, who demanded Cousin Matthew be killed in the last brutal minute of the Downton Abbey Christmas special, leaving 10 million viewers weeping hopelessly into their trifle, because he fancied a go at Hollywood.
"There, I knew they wouldn't kill anyone at Christmas!" sighed my too-trusting mother, seconds before Cousin Matthew's car rammed into what was probably the only other car on a country road for about 100 miles in 1921. It would have been more honest and less jarring if they'd just shown him getting his teeth whitened, putting on some docksiders and hopping on a plane to LA with a duty-free Toblerone under his arm.
But despite the way they toyed with our emotions like a crumpled Quality Street wrapper, I am prepared to embrace Downton Abbey again when series four starts on Sunday – gingerly, the way you'd embrace the prodigal son who might still take your wallet when you're not looking.
Because the truth is, I need Downton in the same way I need 100 denier opaque tights, hot water bottle and food items that can be smothered in cheese sauce then baked in the oven. It is part of my autumn/winter arsenal. Just as they say, "there's no bad weather, only bad clothing choices", I fully believe that being gloomy in the cold months is only because you haven't assembled the right kit.
Here, for your reference, is everything on my autumn kit list. Yours might vary, but this is a good start:
Hot water bottle, standard size
Hot water bottle, mini size (for stowing in crevices when you go out)
Blankety socks, three pairs
Comedy sweatshirt (mine is an Adidas one that belonged to my dad in the 90s)
Friends who accept, "I'm not coming, I just got really comfy" as a valid cancellation excuse
Vodka lemsip (preventative)
A bottle of Stone's Ginger Wine, or anything else sticky
Custard, Bird's instant
Custard, posh from a tub
A long reaching grabber, for fetching items when you don't want to get up from under your blanket
All the tea bags you could possibly get through between now and March
A real-time TV obsession, such as Downton Abbey or X-Factor
A time-filling TV obsession, such as re-watching all of Dawson's Creek on Netflix
A board game obsession (recommend Settlers of Catan for maximum heat-giving tension)
A Tesco home delivery account
An Ocado home delivery account, for posher occasions
A loved one, or a cat, or a realistic body pillow shaped like a loved one. Or a cat.